HOUSE of WARIS Botanicals x Philip Huang
One fall afternoon in 2019 I made my way to meet Philip 

Huang

 on a rooftop in Bushwick, Brooklyn. Our mission for the day- make uniforms for our tea house that was to open in a few weeks. We used natural indigo and tea as dyes to make the beautiful tie-dye tshirts.
This year we were going to make more shirts in Thailand when our world was hit with the pandemic. Together, we decided to turn our attention and resources to making masks. Masks that would carry a message of hope and unity in these dark days. Bring light to dark corners. Love Conquers All.
- Waris


Outer Layer
Philip Huang's signature tightly woven 100% cotton twill tie-dyed in indigo
Middle Layer
Anti-bacterial sweat-wicking fabric
Face Touching Layer
100% cotton gauze for comfort dyed in indigo
Hidden metal wire to mold to face and prevent fogging of glasses
Silk-screened with LOVE CONQUERS ALL, House of Waris' defining philosophy
The plant
Indigofera Tinctoria
grows in abundance in Southeast Asia and the Indian subcontinent, it is a different species from 
Persicaria tinctoria or 
Japanese and Chinese Indigo which grows in East Asia and Eastern Europe. For millennia the indigo plant has been used to create the most brilliant natural blue dye that was traded, like money. It can be said that dye even predates our modern currency whether as indigo dye bricks or as indigo fabric lengths.  
In Thailand, in the province of Sakon Nakhon in the Isan region or Northeast of the country, Indigofera Tinctoria grows in abundance with Sakon Nakhon Indigo protected as a Geographical Indication.  
The leaves and stalks of the Indigofera Tinctoria plant goes through a process that transforms it from a plant to a living, breathing natural blue dye.


FROM PLANT TO DYE
For the leaves of the indigo plant to become a dye, a method that has been passed on for generations is used. The leaves are soaked overnight in water with red lime (clay), the alkaline in the lime bringing out the indigo colour in the water. After 24 hours, the surface of the water will reveal a copper colour, the leaves are removed and thereafter the indigo is "beaten", imagine beating matcha, the colour is beaten out of the liquid, revealing a blue colour. The blue liquid is then left for another 24 hours to settle, thereafter  it is strained through a muslin cloth leaving a thick indigo paste. For the paste to become a dye, it then goes through a fermentation process where water, clay, alcohol and fruits are added to it to create a liquid dye, thriving on the right balance of acid and alkalinity. 


Indigo is a natural breathing dye, it needs a balance of acid and alkalinity with an ideal pH level of 10.5 - 11.5 and temperature of 
between 68-90°F (20-32°C)
 . It needs to be fed for it to ferment, we use tamarind (the juice squeezed out from the fruit), red lime and rum for our vat here in Bangkok, for our Bushwick vat, we use apple cider (from the store), pickling lime and vodka (leftover from a dinner party). After the vat is used, it needs to to rest and soak up the nutrients, to ferment and be fresh the next day.  A healthy vat has a layer of blue foam on top that is shimmery and beautiful. 
PROCESS
Natural indigo binds to natural fibres (does not penetrate it but creates a coat). To dye indigo, first soak the fabric to open up the fibre, wring out water. Dip into indigo vat and gently massage indigo into it. Wring out excess indigo in the vat. When the fabric comes out of the vat, it will be green, the moment that it breathes air it will oxidise and turn blue. Let hang dry for a few minutes. For a darker shade, repeat this process before washing. The indigo-dyed fabric must go through a few washes till the water runs clear. 
NATURAL PROPERTIES OF INDIGO
Natural indigo is anti-bacterial and anti-microbial, the way that it binds and reacts to the fabric creates a shield which is also able to block out bacteria and microbes naturally. It also has natural UV-protection. Additionally, many think that indigo is cooling, this might be because the UV protection as well as the colour being cooling and calming. 
COMPOSITION OF OUR MASK
3 layers of fabric, outer layer is made with a tight-woven cotton twill that has been hand-dyed in indigo and silk screened by hand. It has an invisible middle layer that is an anti-bacterial sweat-wicking tech fabric. The inner layer that touches the face is made with 100% cotton gauze that has also been hand-dyed in indigo. A hidden metal piece at the nose bridge helps to mould around the face for extra protection and to prevent glasses from fogging up. 


CARE
Natural indigo is not colour fast and will fade over time with wear (turning into your fave love-worn item). Best to hand wash the mask in cool water and hang dry in shade. Iron inside out.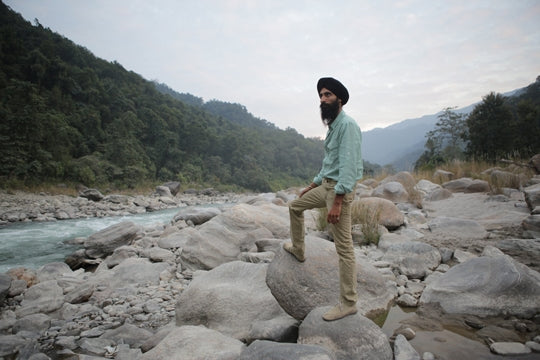 Title for image