Digital Dinner Club No. 7 with Eden Grinshpan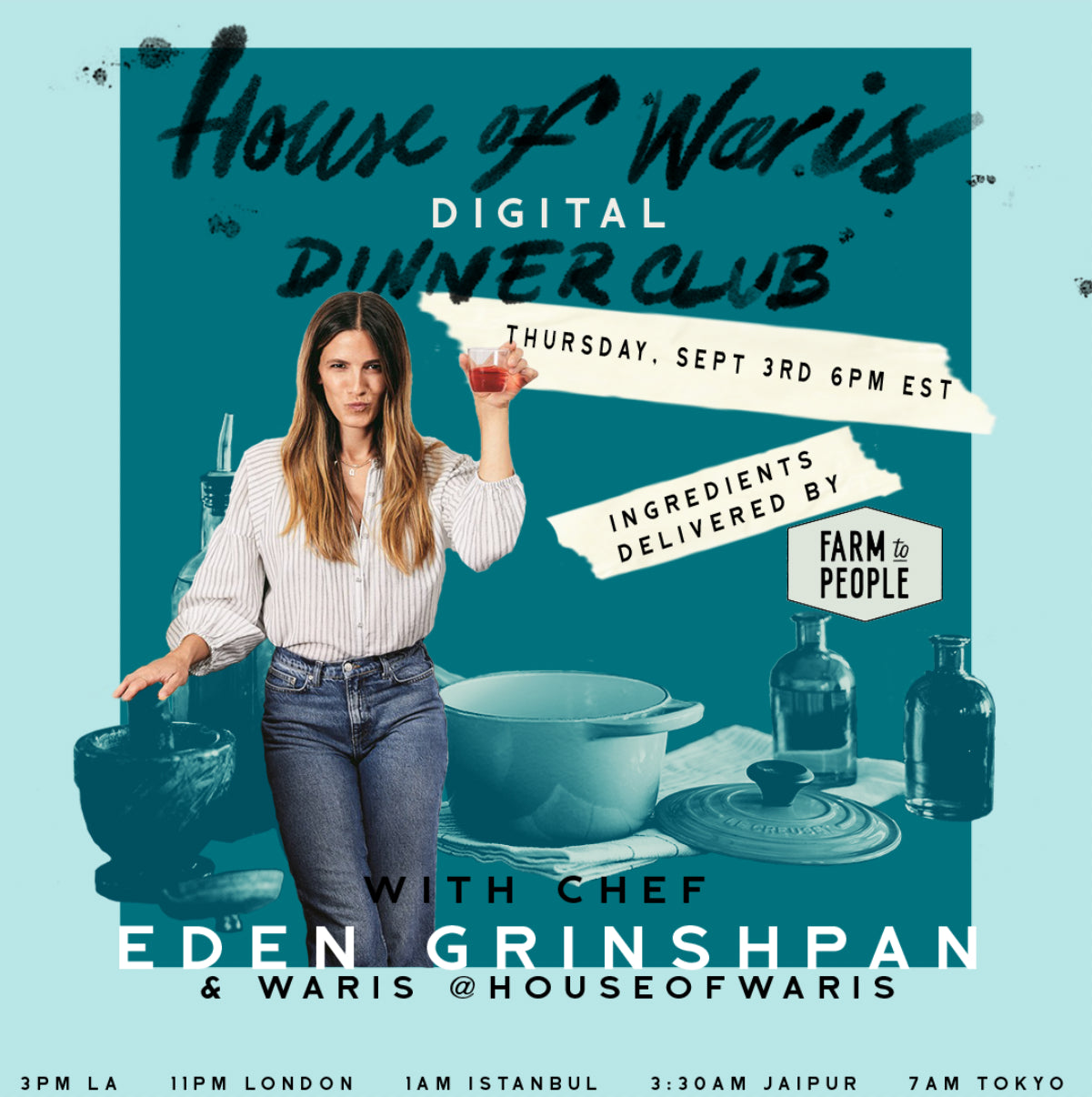 Our ongoing pursuit of celebrating wellness and community is relevant now more than ever as we pause and reflect on our here and now.
Waris will go live on Instagram (@houseofwaris) with Host of Top Chef Canada Eden Grinshpan (@edeneats) on Thursday, September 3rd at 6:00PM EST for our seventh Digital Dinner Club. 
This Digital Dinner Club includes the option for you to order an Ingredient Box from Farm to People, which includes the ingredients in the recipe for you to follow along with Waris on this delicious adventure.
The Ingredient Box includes:
+ 5 Heirloom Zucchini
+ 1 bulb Red Russian or Asian Tempest Garlic
+ 3 Lemons
+ 1 bunch Green Basil 
+ 1 jar Soom Tahini (11oz)
+ 1 bag Heirloom Pepitas (3oz)
+ 1 cup Panko bread crumbs
+ 4 tsp coriander 
Additional ingredients needed for recipe from your pantry:
+ ​Olive oil 
+ White vinegar
+ Salt
+ Pepper
Eden will be showing us how to make Grilled Summer Squash with Coriander Breadcrumbs and Garlicky Tahini.
GRILLED SUMMER SQUASH WITH CORIANDER BREAD CRUMBS
Serves 2
TOOLS
These kitchen items/tools will be used in this recipe
+ Mortar & Pestle (spice grinder okay)
+ 1 Large Pan (or grill if you have)
+ 1 Small Pan
+ 1 Medium/Large Bowl
+ Zester
INGREDIENTS FOR SQUASH
+ 5 medium Summer Squash or Zucchini or a combination (about 2½ pounds)
ADDITIONAL 
A few extra ingredients for you to bust out of your pantry for this recipe
+ 2 tablespoons White Wine Vinegar
+ 2½ tablespoons Extra Virgin Olive Oil
+ Salt (Kosher preferred)
+ Pepper (Freshly ground preferred)
INGREDIENTS FOR BREADCRUMBS
+ 2 teaspoons Whole Coriander Seeds
+ 1 Garlic Clove, grated
+ ¾ cup Panko Bread Crumbs, pulsed in a blender if chunkier crumbs
+ Zest of 1 Lemon
+ 10 small fresh Basil Leaves (or 3 large basil leaves, torn)
ADDITIONAL 
A few extra ingredients for you to bust out of your pantry for this recipe
+ 3 tablespoons extra-virgin olive oil
+ Kosher salt (flaky preferred)
DIRECTIONS
Make the Squash
+ Cut squash/zucchini lengthwise into ¼-inch-thick planks
+ Preheat the grill until it's hot. (Or preheat a large pan over medium-high heat.)
+ In a medium bowl, toss the squash with the olive oil, vinegar, and kosher salt and pepper to taste.
+ Grill (or pan-sear) the squash on both sides until lightly charred, about  5 minutes total. (It will be about 1 minute per side in a pan.)
Make the Bread Crumbs
+ Toast the coriander in a dry pan until fragrant, about 30 seconds.
+ Grind the seeds with a mortar and pestle or in a spice grinder.
+ Heat the olive oil in a medium pan over medium heat.
+ Add the garlic and cook for just 5 seconds, making sure it doesn't burn.
+ Add the bread crumbs and season with kosher salt.
+ Cook until the bread crumbs start to toast a bit, 3 to 5 minutes.
+ Remove the pan from the heat and stir in the coriander.
To serve
+ Arrange the grilled squash on a serving plate.
+ Sprinkle the warm bread crumbs over the top.
+ Finish with the lemon zest and a drizzle of olive oil.
+ Scatter basil over the top and sprinkle with flaky sea salt. 
GARLICKY TAHINI
Makes about 2 Cups
TOOLS
These kitchen items/tools will be used in this recipe
+ 1 Medium Bowl
+ 1 Whisk (or fork) 
+ Lemon Juicer
+ Grater (optional)
INGREDIENTS
+ 1 cup Tahini Paste
+ 2 teaspoons fresh lemon juice, plus more to taste
+ 1 garlic clove, grated
+ ½ cup ice water, plus more if needed (see Note*)
ADDITIONAL
A few extra ingredients for you to bust out of your pantry for this recipe
+ Olive oil
+ 1 teaspoon kosher salt, plus more to taste
*NOTE 
This is how much Eden needs for the brand of tahini that she uses, but it may be different for you. Start with some of the water and add until you've gotten a smooth, creamy consistency. If you add too much water, add a little more tahini to thicken the sauce back up again.
DIRECTIONS
+ In a medium bowl, whisk together the tahini, lemon juice, garlic, salt, and ice water. It will reach a weird, lumpy consistency, but don't be afraid.
+ Keep whisking until it smooths out and becomes light in color (if it doesn't, it needs more ice water, so just add a bit more). Tahini sauce with the perfect consistency will drip through the tines of a fork, but just barely.
+ Taste for seasoning, adding more lemon juice or salt if desired.
+ Store in a jar in the fridge for up to 1 week.
+ If the tahini gets too thick while in the fridge, just loosen it up with a little water before using.
****
About the Chef:
After earning her culinary degree at Le Cordon Bleu in London, Eden found herself chasing big flavors around the world, cooking in restaurants and eating her way across Europe, India, Southeast Asia, and, of course, Israel, her family's home country. She has been the host of many television shows, including those on the Cooking Channel and Food Network Canada. Eden lives in Brooklyn with her husband, Ido, and her daughter, Ayv.
Eden's new cookbook, Eating Out Loud, available now!
About Farm to People:
Farm To People is an online farmer's market delivering in NYC. Their mission is to connect like-minded New Yorkers to local farms through nutritious and ethically grown food. Enjoy customizable Farm Boxes and shop the marketplace with the best seasonal, local produce, sustainable meat and fish, and grocery staples.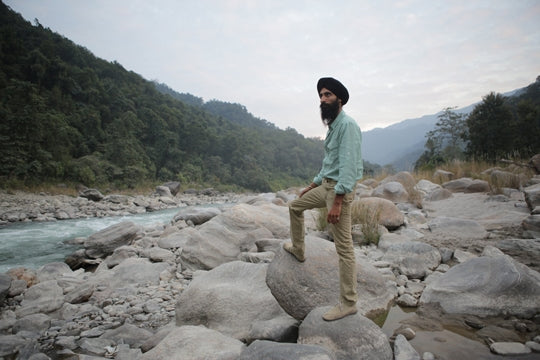 Title for image