Digital Dinner Club No. 1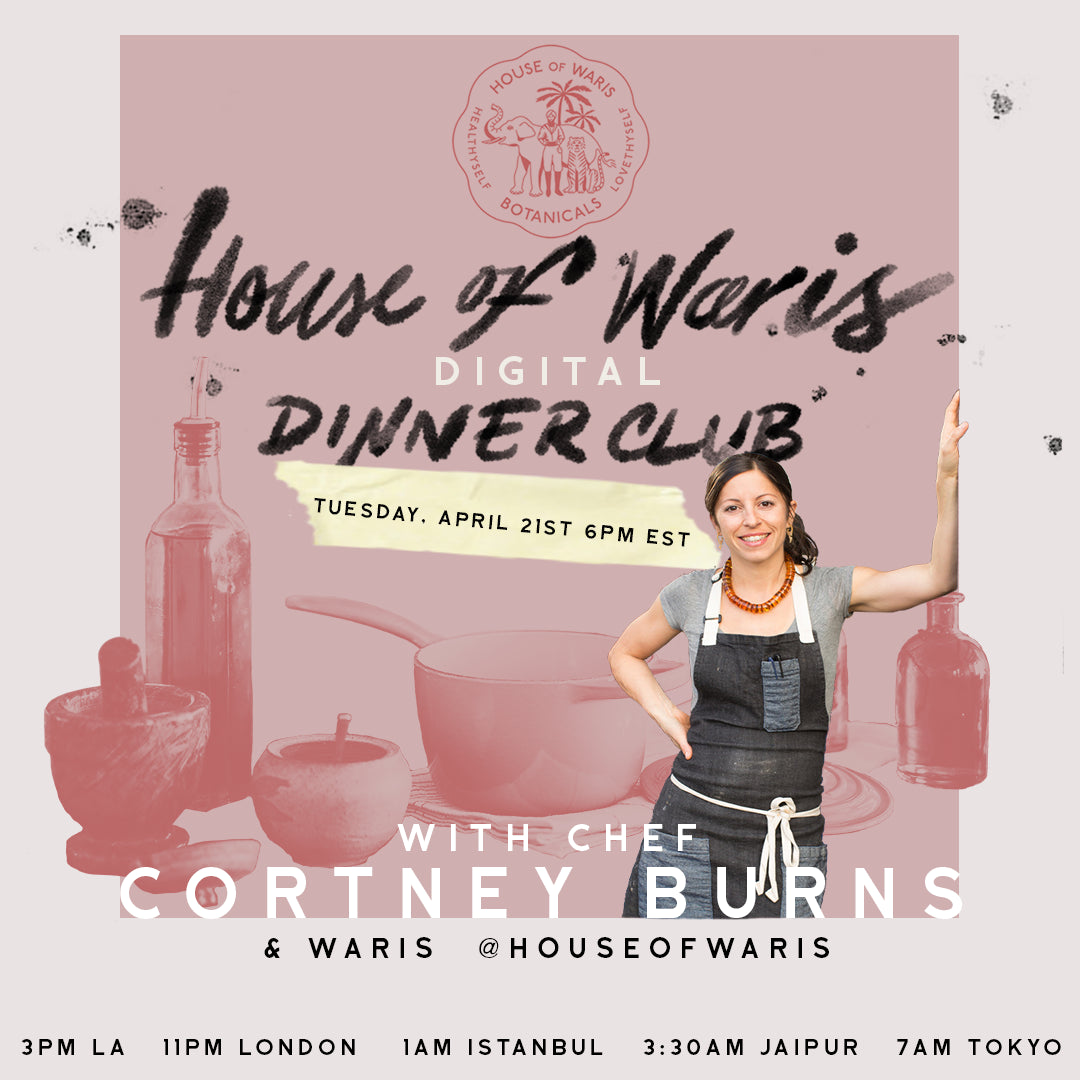 Our ongoing pursuit of celebrating wellness and community is relevant now more than ever as we pause and reflect on our here and now.
Waris went live on Instagram (@houseofwaris) with chef Cortney Burns (@chefcortneyburns) on Tuesday, April 21st at 6:00PM EST for our first Digital Dinner Club. 
VEGAN VITALITY BROTH
INGREDIENTS
+ 1 lb yellow onions
+ 1/2 lb large carrots
+ 1/2 lb parsnips
+ 1/2 of a fennel bulb
+ 4 oz cremini or button mushrooms
+ 6 cloves of garlic
+ 2 tbsp coconut oil, ghee or fat of you choice
+ 2 tbsp tomato paste
+ 1 in. piece of ginger
+ 1 in. piece of turmeric
+ 1 tsp caraway seed
+ 1 tsp coriander seed
+ 1 tsp fennel seed
+ 1 tsp black peppercorns
+ 3 L water
+ 1/2 bunch of fresh herbs such as parsley, cilantro and/or tarragon
+ Lots and lots of fresh chopped herbs to garnish
OPTIONAL
+ 1 bay leaf
+ 3x4 in. piece of kombu seaweed
DIRECTIONS
+ Cut yellow onions, carrots, parsnips, and fennel bulb into 1 in chunks
+ Halve or quarter cremini or button mushrooms
+ Smash garlic
+ Thinly slice ginger and turmeric (can substitute with 1.5 tsp of dried ginger and turmeric)
ROASTING VEGETABLES
+ Heat oven to 425 degrees
+ Place mushrooms in the sun for 20 minutes
+ Add onions, carrots, parsnips, fennel, mushrooms and the garlic to a baking sheet or pan
+ Toss with the coconut oil and roast for approximately 15 minutes
+ Stir and rotate the vegetables for another 10 minutes until they are nicely browned
MAKING THE BROTH
+ Place the roasted vegetables into a tall stockpot
+ Immediately add 1 cup of water to the baking sheet or pan while it's hot and gently scrape up as much of the browned bits as you can with a wooden spoon
+ Set it aside for a moment, turn the stock pot heat to medium and add the tomato paste to it
+ Toast that up for a minute or so stirring frequently
+ Pour the pan scrapings over the vegetables, add the ginger, turmeric bay, caraway, coriander, black pepper and seaweed if using
+ Cover with 11 cups of water
+ Bring to a boil, then reduce to a simmer
+ Cook, partially covered, for 45 minutes
+ Add herbs and steep covered for 1 hour
+ Strain broth and salt to taste
+ Enjoy!
Broth will last up to 5 days refrigerated, or frozen up to 3 months.
OPTIONAL ADDITIONS
Serving suggestions after straining broth to complete your meal

+ Enjoy broth infused with Sweet Clarity (steep the sachet in the broth)
+ Pair with a cup of Sweet Clarity
+ Always serve with lots of fresh chopped herbs in your broth.
+ Feel free to add grated turmeric, grated ginger, roasted sweet potato, shiitake & bok choy
+ Create a variation of five spice blend: cinnamon, ginger, orange blossom, eleuthero, jujubee seed
+ Saffron & roasted garlic with kale and winter squash
About Cortney Burns:
Cortney Burns' culinary career has spanned from Australia, to San Francisco, Seattle to Hawaii, Napa, and New England. She honed her craft in major kitchens, including Café Rouge, Quince and Boulette's Larder. She joined co-chef Nick Balla at Bar Tartine, where the duo cooked bold and innovative dishes that earned national acclaim. Their cookbook, "Bar Tartine: Techniques and Recipes" won a James Beard Foundation Award and an IACP Award.
Burns and Balla opened Motze, a pop-up okazu-inspired restaurant in San Francisco, then returned to their Central European roots by transforming Motze into Duna, a restaurant where the menu centers around Hungarian and Central European flavors. After Motze's opening, Burns closed Bar Tartine and moved east to assist with opening Tourists, a 55-acre hotel property in North Adams, MA, where she curated the food program. After the opening she left North Adams and currently splits her time between Cape Cod and New Hampshire consulting on preservation programs throughout New England.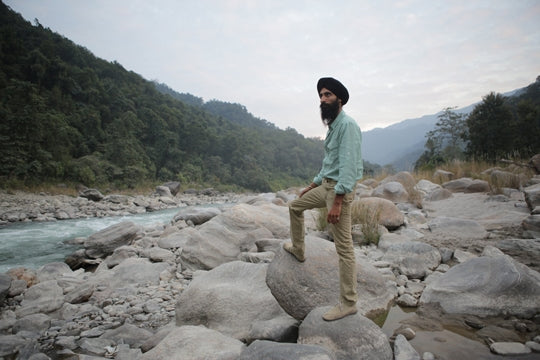 Title for image