Digital Dinner Club No. 2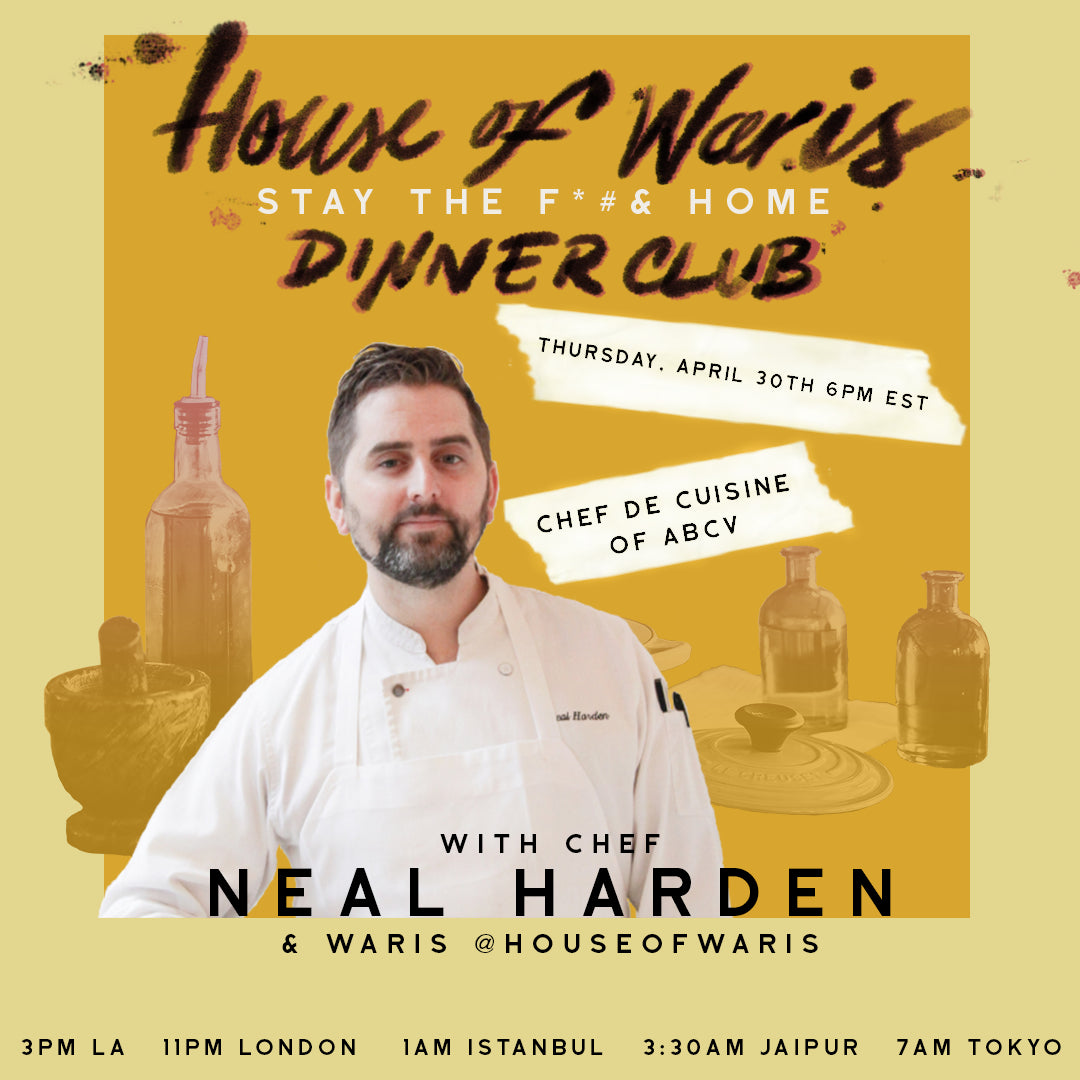 Our ongoing pursuit of celebrating wellness and community is relevant now more than ever as we pause and reflect on our here and now.
Waris went live on Instagram @houseofwaris Thursday, April 30th at 6:00PM EST with Chef Neal Harden of abcV to make a delicious plant-based recipe.
CRUNCHY SEED CRUSTED SWEET POTATO
With Tahini, Yogurt, Chili-Turmeric-Lime Honey + Spices and Herbs 
INGREDIENTS

For the Tahini:
+ 3 tbs Tahini
+ ¼  tsp Salt
+ 5 tbs Water
+ Juice of ½ Lemon
+ 1 tbs Extra Virgin Olive Oil (high quality is best)
+ ½ Clove Garlic, grated or some thinly sliced spring garlic 

For the Chili-Turmeric-Lime Honey:
+ ¼  tsp Chili Flake
+ Juice from ½ small Lime
+ 1 strip of Lime Zest
+ 2 tbs Market Wildflower Honey
+ ½ inch piece of peeled Turmeric, grated (can substitute with ⅛ tsp Turmeric Powder)
+ ½ inch piece Ginger, peeled and grated (optional)
+ 1 tbs Extra Virgin Olive Oil

For the Dish:
+ 1 Sweet Potato
+ Seeds - Flax/Sesame/Sunflower/Pumpkin/Chia, whatever you like!
(Neal will use Sesame, Sunflower, and Flax)
+ Spices - Zaatar & Sumac recommended, but other options could be Cumin, Black Pepper, Coriander, Chili Flakes, Smoked Paprika, Lemon Zest, Chives, etc.
+ Herbs (can include Greens and Sprouts)
+ Yogurt, dairy or non-dairy (full fat recommended)
+ Flaky Sea Salt
DIRECTIONS

For the Tahini:
+ Whisk tahini, salt, water, lemon juice, olive oil, and grated garlic together.
+ Set aside.

For the Chili-Turmeric-Lime Honey:
+ Mix chili flakes and lime juice, and let sit to hydrate.
+ Then, add lime zest, honey, turmeric, ginger, and olive oil to mixture.
+ Set aside.
(Let this mixture sit for at least a few minutes to marry flavors.)

For the Dish:
+ Steam or roast sweet potato until cooked but still a bit firm.
+ Cut sweet potato lengthwise.
+ Moisten cracked flax seeds and spread on sweet potato.
(Only need to moisten flax seeds - not other seeds you are using!)
+ Press on other seeds.
+ Place sweet potato face down (seed side down) in a cast iron pan on medium heat.
+ Sear until crispy.
+ Plate and top with yogurt, tahini sauce, chili-turmeric-lime sauce, spices & herbs.
***
Chef Harden dreamt up a beautiful zero-proof (no alcohol) cocktail using our Sweet Clarity blend. 
Sweet Clarity Paloma Tonic with Garden Herbs

INGREDIENTS
+ 5 oz Boiling Water
+ 2 bags Sweet Clarity
+ 2 tsp Wildflower Honey
+ Juice of 1 Ruby Grapefruit
+ Juice of 1 Lemon
+ Fresh Mint
+ Splash of Soda/Tonic Water
+ 1 Big Ice Cube or a few smaller ones
+ Garden/Fire Escape Herbs to Garnish (optional)

DIRECTIONS
+ Pour boiling water over teabags and steep 10 minutes.
+ Squeeze out bags and discard.
+ Stir in Honey to warm tea, then chill completely.
+ Once chilled, muddle in Mint and stir in Citrus Juices.
+ Strain into glass over ice and add a splash of Soda/Tonic Water.
+ Garnish with Herbs if desired.

Makes two small servings (rocks glasses) or one large drink.
Purchase a tin of Sweet Clarity here!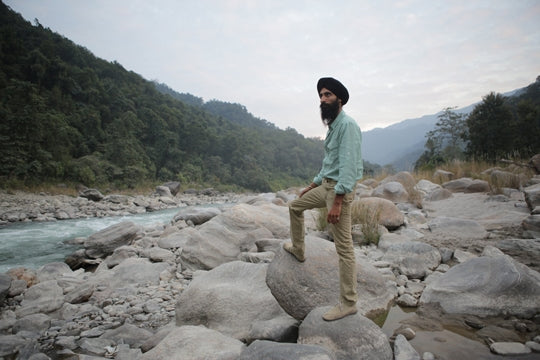 Title for image