Digital Dinner Club No. 4
Our ongoing pursuit of celebrating wellness and community is relevant now more than ever as we pause and reflect on our here and now.
On Wednesday, May 13th we were joined by one of our favorite chefs, 
Marco Canora
 of 
Hearth
 and the best bone broth 
Brodo
. He taught Waris (
@houseofwaris
) to make Vegetarian Tom Kha Hed with House of Waris Immunity One and Brodo broth.
TOM KHA HED (Thai coconut soup with mushrooms)
Two large dinner portions or 4-6 appetizer sized portions

INGREDIENTS
+ 2 Tbsp coconut oil
+ 2 bunches of scallions
+ 1 in. piece of fresh ginger
+ 1Tbsp curry powder
+ pinch of chili (cayenne, flakes, hot sauce etc.)
+ 22 oz. Brodo Seaweed Mushroom Broth
+ 12 oz. can unsweetened coconut milk
+ 1 sachet House of Waris Immunity One blend
+ ½ cup sliced white onion
+ 1 cup cremini or button mushrooms
+ 1 red bell pepper
+ ½ bunch fresh cilantro

DIRECTIONS
+ Finely chop scallions and separate tops, middle, and bottoms. Set aside.
+ Combine coconut oil, ginger, and scallion whites in a sauce pan over medium heat, and sweat for 2 minutes
+ Add curry powder and chili, cook for another 2 minutes
+ Add broth, coconut milk and House of Waris Immunity One sachet. Bring to a
boil, reduce to a simmer
+ Add onion, scallion middles, mushrooms and peppers, cook until just tender
(approximately 5-minutes)
+ Garnish with cilantro, scallion tops, and chili oil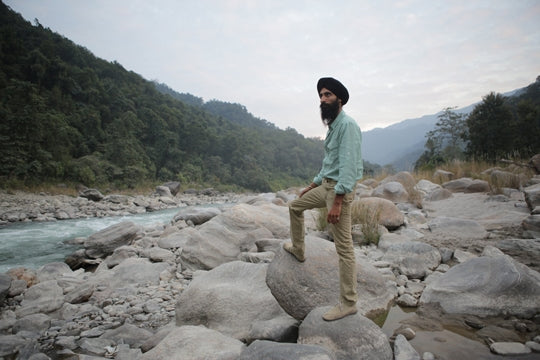 Title for image